Crowd gathers as church members express views on homosexuality, morality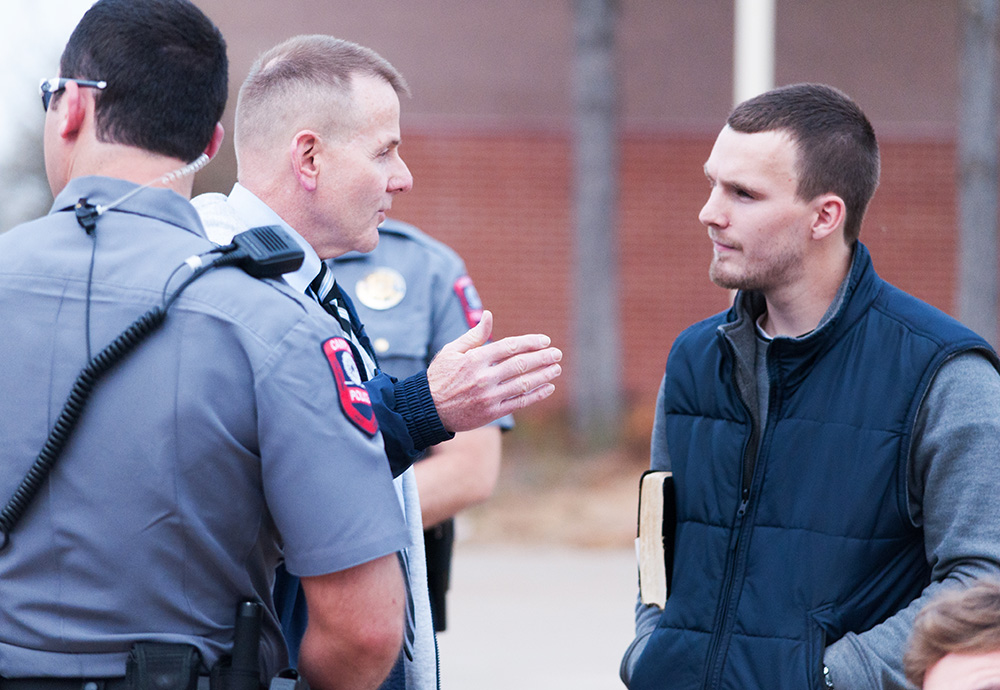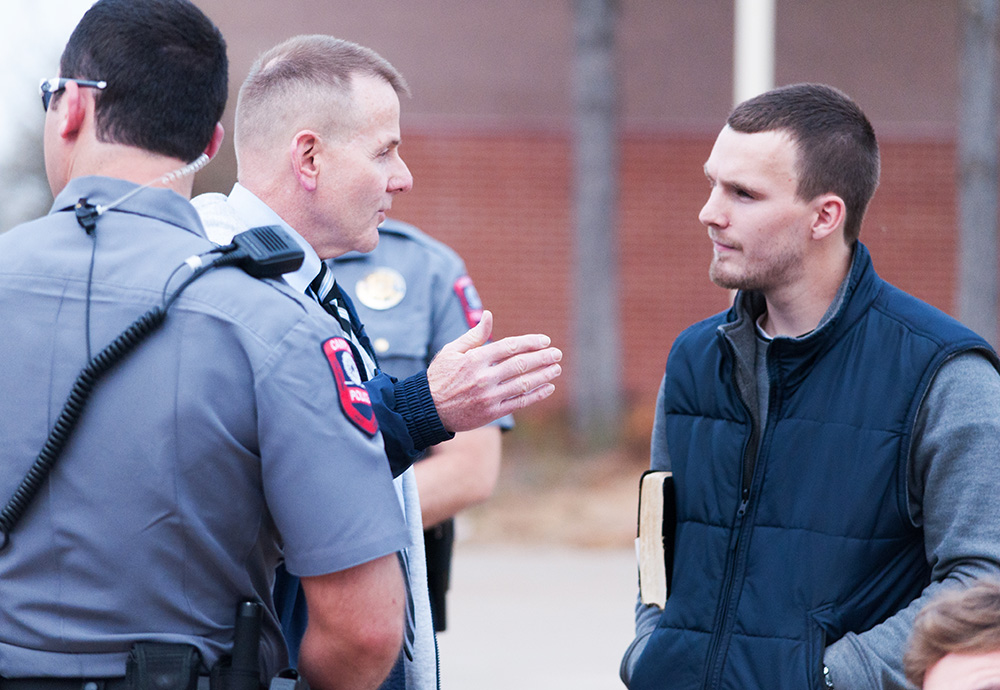 A crowd gathered on the afternoon of Wednesday, April 2, listening to and debating with former student Steven Plumlee, 26, and Sebastian Bryan, 22 — both from the Trinity Holiness Church in Norman — who were openly expressing their viewpoints about homosexuality and morality in an area in front of Main Building Entry 1.
Bryan freely voiced his thoughts as campus police stood by.
"[Inappropriate dress] is why we have child abduction, because men see perverted things all throughout the day and his mind is constantly dwelling on that," Bryan said. "It provokes thoughts in men, it provokes them to go off in closets by themselves. Like when women dress [inappropriately], it's not good for a man to be alone because that's when they start meddling with things that are bad."
Bryan said if all women dressed more modestly, it would help lessen the occurrences of rape and pornography viewing.
"A lot of porn addicts will start watching stuff and it makes these things get worse and worse, and that's why we have things like child rapists," he said. "We ultimately just want one man and one woman to be married so that children don't become raised without their fathers. It's deeper than just the issue. That's where the root of it is."
When it comes to homosexuality, Bryan said, people should be aware of their sin.
"That's what your sin is and you have to repent it," he said. "Just like the drunkard would. I'm not meaning to disrespect any particular person."
Cyber Security major Deartrous Conerly said he disagreed with what was being said by the men.
"One [said] … women should be acting in a certain way that would be in God's best interest, I suppose," Conerly said. "And the other [view] being homosexual hate, which is that gays are an abomination of Christ and so on … . I'm normally immune to that type of language, but there's other people that are on this campus and I don't think they should be subjected to that type of speech."
Art major Leon Williams said he's met Bryan and Plumlee before, and while he believes their intentions are good, their delivery is not ideal. He said he used to attend the same church as Plumlee and Bryan.
"I can see the passion in them — they want peace for everybody," Williams said. "I believe their intentions are good but … the ways they bring it aren't.
"The way they [preach] can hurt others. I agree that the Bible is true," he said. "But I believe that we should preach with love.
"You've got to be really careful when you're talking about stuff like the Bible," Williams said. "You don't want to make somebody more angry and push them even further away."
Plumlee said he and Bryan represent God first and and foremost.
"Firstly, we represent Jesus Christ," Plumlee said. "So pretty much, as long as you'll agree that you have to obey Jesus Christ with all your heart, soul, mind and strength — and you really are trying and you're not living a life of sin … and you're living above sin — I'll love you … ."
Conerly said he felt personally pointed out by the men.
"[Bryan] started that [homosexuality] conversation while I was around … I did give him the middle finger while I passed by," he said.
"I can't tell you if he was doing it to incite some sort of disruptive behavior amongst all of the college students or if he was just doing it because he was just wanting to preach the love of God, but I feel that [the latter] wasn't the case."
When asked if he felt he was provoking people as he confronted them walking by, Bryan said he was only pointing out their sins.
"I'm adjusting their sins, not necessarily the individual," he said. "The individual is making the choice and the individual should see how shameful it is to make that choice."
Conerly said he complained to campus police about the mens' speech.
"I felt as if there wasn't any intervention as to what was going on out there between the library and the Main Building," he said. "I felt that when students were crossing, they were being disrupted from their daily activities, which shouldn't have happened on public property.
"I don't think God should be used as a scapegoat for their conservative views and that's what this is about. This isn't about that they bring people into the fold of God's grace. This is about their conservative agenda."
Bryan said campus police approached and spoke to him.
"A lot of people don't know their rights and a beautiful thing about this country is the First Amendment right," he said. "This isn't a private property so we have freedom of speech. We have freedoms that other countries do not have so we're able to preach the gospel.
"When you preach the gospel out loud, it tends to become very aggressive to people and they don't know what to do about it so they go to the authorities to question them about it."
"[Campus police] were telling us not to do any hate speech. And they can't do anything unless we use vulgarity or words that are threatenings. So therefore, we're completely comfortable within our realm and they did recognize that and we praise God that we got that settled."
Bryan said he and Plumlee have been evangelizing for two or three years.
"We came out here without relation to our church. We came here on our own," he said. "We're just here to preach the Bible and read the gospel to people.
"We recently learned about campus preaching, whereas we used to just go to Bricktown and preach there," he said.
Plumlee said he and Bryan have been visiting college campuses to spread the gospel for about a year. He said he was holding signs at the corner of SW 89th and Penn before visiting the OCCC campus.
"I felt like God said, 'go to OCCC,"' he said.
While most of his message prompted arguments from bystanders, Plumlee said some people seemed to agree with he and Bryan, even giving them bottles of water and Gatorade.
"Seems these days, a lot of people have an agenda," Plumlee said. "Some people are trying to push evolution, Darwinism, a godless universe, atheism — but I would say, what is the intent?
"If [people] intend to lead you to believe there is no God … there is no end result."
Plumlee said he feels obligated to advocate repentance.
"If what I believe is true — if I can convince men to turn from sin and obey Jesus Christ — they can be saved from hellfire," Plumlee said.
Before becoming a religious enthusiast, Plumlee said, he was both agnostic and an atheist.
"I've known both sides and God's way is right — everything he told us to do is for our own good," he said. "It's because God is love that he told you don't lie, don't steal, don't have sex outside of marriage … .
"All sin is from self," Plumlee said. "If you're loving, you're not sinning — and if you're sinning, then you're not loving."
Conerly said the men were unjustified in their actions.
"If you're going to use God to be able to bring people in so that they may be able to change the point of view of their life, then that's great — use God in that way, his love and his grace," he said.
"But don't use God as the reason to push your conservative views on other people — especially in a place like a community college because there are several people who have their own opinion about what their life is. They have their own religious background and they come from different nationalities. So there should be no reason why one student can subject his views over another."
Campus police officers on the scene refused comment.