Cultural Arts begins with guitarist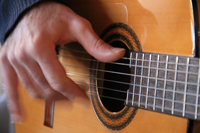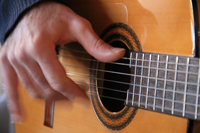 A soulful twang kicked off this year's Cultural Arts Series as guitarist David Burgess took the stage of the Bruce Owen Theater with "The Music of Brazil."
Before the show began, Cultural Arts Director Lemuel Bardeguez described Burgess as an award-winning musician rapidly establishing himself as one of today's greatest musicians. From his performance, it's easy to see why.
Burgess quickly set the mood with "Sampa," originally performed by Caetano Veloso.
The tune was slow and relaxing, yet so hauntingly beautiful the auditorium of more than a hundred fell dead silent, practically holding their breath to make sure they didn't miss a chord.
It was incredibly tempting to lean back, close your eyes, and let the music carry you away to the snow-white beaches of Rio de Janeiro.
But doing that would take your eyes away from the awe-inspiring way Burgess' fingers effortlessly flew over his guitar strings, evoking the sweetest sounds out of just a single instrument.
That guitar wasn't just any old member of the string family, either. Between songs, he explained that his particular guitar contained seven strings instead of the usual six, allowing him to hit a few more notes.
And boy, did he make those extra notes count.
"Odeon" was a fun tune that infused tango with polka, while "Modinha" was a bittersweet ballad that could have given a hardened criminal a severe case of goose bumps.
Between every piece, Burgess interwove some sort of tale. Sometimes, these were accounts of his time spent in Brazil, while others were stories about the origins of the pieces themselves.
"Valsa de Euridice," for instance, was written with mythological musician Orpheus and his love, Eurydice, in mind.
As the myth goes, Eurydice died after suffering a snake bite. Orpheus, so overcome with grief, played such a mournful song that Hades allowed Eurydice to return to earth.
Had Hades been in the audience the night Burgess played, I'm willing to bet he would have been coerced into doing the same thing again. The piece was heartbreakingly gorgeous.
Once everyone was good and teary-eyed, Burgess ended the evening with "Samba do Avião." Sambas, he explained, are typically played during the Carnival of Brazil.
The piece reflected this with upbeat chords and a dance-worthy beat, putting everybody in good spirits as the show came to an end.
If Burgess' amazing performance wasn't enough, his humility was incredibly heartening. It was wonderful to see a talented musician so humble that every time the audience burst into applause — which was often — he smiled and meekly bowed his head.
The lines of people clamoring to buy Burgess' CDs during intermission and after the show were just another testament as to how incredible his performance was.
The only disappointment was looking at the half-full Bruce Owen Theater and thinking about how many people missed an extraordinary show.
Rating: A+
To contact Whitney Knight, email onlineeditor@occc.edu.