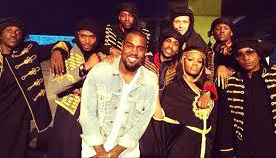 Kanye West has done it again. The man is the Quincy Jones of our generation. Kanye never gets the credit he deserves because of his brass and his flamboyant style.
The-much-ant i c ipated G.O.O.D. Music compilation "Cruel Summer" hit stores this week and did not disappoint.
The G.O.O.D. Music label is made of a wide range of gifted artists. Pusha T, Big Sean, Common, Teyana Taylor and many more.
One of the only major disappointments of the album is the introduction song. It is a light-hearted song which features a random appearance from R.Kelly.
The song would be fine it it were mixed in throughout the album but the album is made up entirely of aggressive in-your-face records. The song does not set the foundation for what otherwise is a great musical piece.
A song from the album that is starting to pick up steam on the radio is "Clique," featuring a star-studded line-up of Jay Z, Big Sean and Kanye West.
Big Sean has taken a huge leap over the last year because of his great appearances on records and his much-talked-about new mixtape "Detroit." Big Sean carried that momentum over to this song where he fit the beat perfectly. Jay Z was of course, Jay Z.
Another standout of the album was "Sin City" featuring John Legend and young guns Teyana Taylor, Travis Scott, CyHi The Prince and poet Malik Yusef — and where Scott and Taylor stand out among their peers.
Scott welcomes the listener into the song with a gritty yet intelligent flow. Taylor sings the chorus with such passion and authenticity that you believe every word coming from her mouth. You will be hearing from both in the future.
The song "New God Flow" is very popular on social networks nowadays because of the great lyricism overall.
Pusha T is one of the best lyricists in the game and is growing under the umbrella of Kanye and G.O.O.D. music.
The song also has a much welcomed appearance from the flamboyant Ghostface Killa who reminds us of his great New York-rooted skills.
G.O.O.D. Music is the best music group in hip-hop today because of the wide range of music they touch. G.O.O.D. Music has done a great job of using this compilation as a platform to show off their immense talent. Kanye has the group going in the right direction with this album.
Rating: A-
—Brandon Willis
Sports Writer
To contact Brandon Willis, email sportswriter@occc.edu.