Creatures swarming throughout campus
In just one week's time, everyone on the OCCC campus seems to be trying to "Catch 'Em All" as they walk with their cell phones outstretched, usually in groups, looking at invisible and imaginary creatures.
The new mobile phenomenon, Pokemon Go, has swept the country like a breath of fire from Charizard (a fire-breathing dragon Pokemon), and has OCCC feeling the heat as well.
'Pokemon' is a Japanese based franchise comprised of games, television shows, and films revolving around human and monster-like characters called Pokemon, that often battle to achieve certain goals.
The new application, released on July 6, is developed by Niantic and distributed by Nintendo, and is available on both iOS and Android platforms.
Pokemon Go is a location-based augmented reality game, otherwise known as a role playing game, that allows the player to move their character by physically walking with their cell phone.
The game is a free app. With it, the game accesses the player's cellphone camera and GPS feature, to show the imaginary, brightly colored animals that can be caught.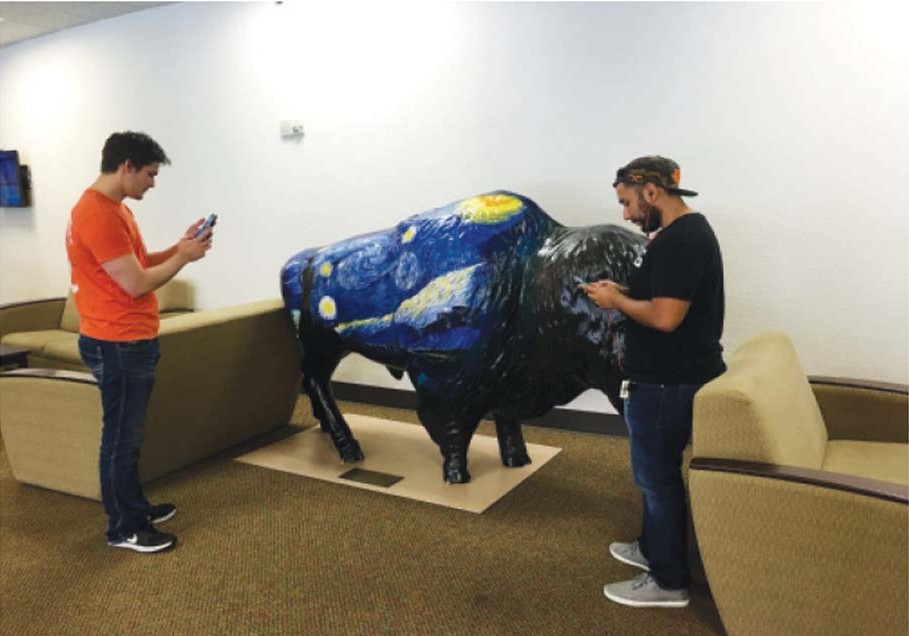 Players can "catch" them by flicking red and white pokeballs with their finger on their phone screens.  Players can also battle other pokemon for control of a 'gym'.
The game has become extremely popular, especially at OCCC this week.  Many students have said they play on their way to class or as they're leaving the school.
Some huddle together near the Visual and Performing arts Building  or they dash inside the building to catch a Pokemon near the Van Gogh Buffalo in the main entrance.
Zechariah Yarbrough, a concurrent high school student from Tuttle, said he is extremely excited about the game, and anticipated it even before its release.
"Me and my friend have been waiting for it since its announcement," Yarbrough said. "I played Fire Red, Leaf Green, and Ruby, and a few of the [Nintendo] DS one's. I did watch the cartoons all the time."
He said the game has many great qualities that he finds beneficial.
"It gets people up and walking around, I walked six miles to hatch an egg," he said. "When you come to a 'Gym' or a 'Pokestop' you just meet new people. That happened a few times with me."
A 'Pokestop' is a specific area in the game where many Pokemon gather and can be caught.
Despite this, however, Yarbrough said there are negative qualities as well, such as people not paying attention to their surroundings.
"The few people that have their head solely in it, not paying attention to where they go, and are like, walking in traffic or running into stuff," he said.
Engineering major Anh Tran, said he has been playing the game since the release date as well.
"I played Pokemon as a kid, and I also play Pokemon Competitive," Tran said.
"It helps people interact and get outside more," he said. "Pokemon is kind of a big franchise, and even more people find out and discover new places."
In agreement with other students, Tran said there are adverse side-effects, including students being engrossed in their phones, and at times not paying attention while driving.
Tran had one tip for Pokemon Go players: "You gotta catch 'em all"
Another negative for the college is that some students have formed teams and are defacing college property by inscribing their team names, such as Instinct, into the college sidewalks.
One such area was damaged recently near the Arts and Humanities Center's main entrance where the word "Instinct" has been scratched into the sidewalk.
Pre-Med major Chris Carcamo and Digital Cinema major Jim Ritchey both said positive things about the new app though.
"This is doing the complete opposite of what social media is doing nowadays," Carcamo said.
He referred to people engaging in conversation and getting active, something not done behind a computer screen.
"They've been trying to make video games to get people fit for years," Ritchey said. "They finally did it."
Though the game engages OCCC students on campus, it also attracts people off campus due to the high amount of "Pokestops" located on the grounds.
Nathan Despain is a full-time employee at the Hobby Lobby Distribution Center. He was drawn to the campus because of its unusually high level of Pokemon.
Despain said he was excited when the game came out, mostly because he played the games as a child, soon after the franchise's initial release in the U.S. in 1998.
"[I played] about 15 years ago when the original red version and blue version came out," he said.
For some, the game is actually quite revolutionary, according to OCCC Psychology Department Chair Dr. Jeff Anderson.
He praised its ability to motivate people to be active outdoors.
"All my research when I was in my grad studies for my master's and my Ph.D. was actually really focus ed on weight status," Anderson said. "For decades we've been trying to find ways to get kids mobile and get them out of sedentary type of situations."
"We saw that with the [Nintendo] Wii, where we saw people actually moving their arms instead of their thumbs, and that was praised," he said.
Anderson also discussed other gaming platforms, like 'Dance Dance Revolution on Xbox Kinect, but said these games were still really limited.
"You have to have somebody who wants to dance for 'Dance Dance Revolution'," he pointed out.
"The activity base. I think this has touched that bigger than anything that has ever been done before," Anderson said. "I think that is just amazing. People have been trying for years to get this thing to happen."
Beyond getting people active and moving, Anderson also enjoys the prospect of getting people outside in the sunlight.
"For our public spaces, I think parks are completely under utilized for the money that we put into them," he said. "I went to a park myself and there was probably 60 people, and they range from [age] 50 down to 16 or 17, all out playing this game, and they were talking to each other, they were actually sharing information."
The game has been a smashing hit for Nintendo, which owns a portion of The Pokemon Company. Nintendo's market value has gone up over $12.9 billion in just 8 days after the application's release in the U.S., Australia, and New Zealand, and is anticipated to increase with upcoming releases in Japan, the UK, and several European countries.
According to the data analysis company SurveyMonkey, Pokemon GO is the most successful mobile application in the US with over 21 million daily users beating 'Draw Something' and 'Candy Crush', and is set to surpass Twitter in active daily users in the coming days.
Anderson said he wants students to be safe when playing Pokemon Go.
"Don't go to an area you're unfamiliar with," he said. "Staying in public spaces is probably the safest. Don't do it and drive."
Anderson said finally that the game may even help break down social barriers.
"In terms of social aspects, overcoming things like racism, and other problems we have interacting with other people who are different from ourselves is huge," he said. "That is a really good thing."
Pokemon Go is available as a free download on both Apple's App Store and Google's Play Store. Don't forget, you gotta catch 'em all!