Coolest kicks are socially concious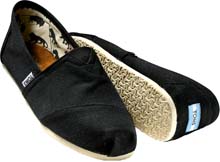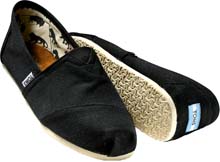 I love products that give back, products that give to the greater good. Most of the time, I'll go out of my way to find a company that contributes to a cause. One of my favorite companies is TOMS, which gives a pair of shoes to a person in need for each pair purchased.
I've been buying TOMS for a few years now and they have never disappointed me. I usually buy various colors of the Classic Slip-ons, because they're reliable, comfortable, durable and go with pretty much anything I wear.
With all the winter weather, I decided my feet needed some extra warmth besides the one layer of fabric from my beloved grey TOMS. So, I purchased some TOMS Grey Tribal Boots, which proved to be another great life decision.
My latest TOMS purchase has been my favorite so far.
I received an email one afternoon from TOMS that said they now sell athletic shoes. I almost could not contain my excitement. Reading those words was like a dream come true. The next day, I was online ordering the brand-new TOMS Black Tribal Woven Women's Del Rey Sneakers. I had no problem paying $79, because a decent pair of Nikes is easily $90, plus, TOMS give to someone in need.
A couple days ago, my TOMS came in and I ripped open the box to try them on. I put them on my feet and they practically started smiling. They had the typical TOMS design, but had laces and looked similar to Nike Free Runs.
The sneakers are light, fluffy and fit my feet perfectly. They have the comfort of Classic TOMS with the support of athletic shoes.
Most shoes need to be broken in at least a few times before feeling like they could be worn for an extended period of time. But, my feet felt right at home in my new tribal print sneakers.
These shoes are the best of both worlds. They make my feet happy and they make someone on the other side of the world happy.
Rating: A
To contact Lauren Daniel, email onlineeditor@occc.edu