Convergence event comes together nicely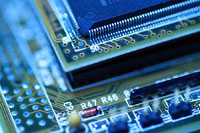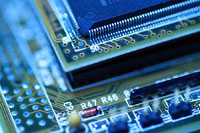 Faculty and staff gathered recently for a showcase of the technologies, both new and current, that are the college's lifeblood.
Named "Convergence," the showcase featured a convention-style setup, with those responsible for the technologies being demonstrated and presented sitting at tables around the room.
Convergence is the brainchild of Robin Ying, Information and Instructional Technology Services vice president, and Tim Whisenhunt, instructional video services coordinator.
"I wanted to do an open house, to give people a chance to learn more about what Information and Instructional Technology Services can do," Ying said.
"But when Tim (Whisenhunt) got ahold of the idea, he just ran with it. And it became Convergence, which was really better than what we'd planned to do initially."
Whisenhunt said he feels the name Convergence is a good explanation of the event.
"Convergence is everything coming together at one point," he said.
"And that's what this event does. It brings all the new technologies and services, and many of the current ones, together in one place so faculty and staff can learn about what tools are available to them."
Convergence was a success for a number of reasons, said Tamara Carter, mathematics department director, who attended the event.
"It allowed me to just walk from table to table, talking directly to the people who handle these technologies every day.
"To get that kind of expertise, I'd normally have to schedule a dozen or so meetings," Carter said.
Ying said in light of Convergence's success, he plans to make it a recurring event.
"We're hoping to do this again at least once a year. But if the budget allows, we may even be able to do it once a semester."
Carter said she's pleased it will recur, and looks forward to future Convergence events.
"It's just incredible to be able to walk around the room, picking up ideas from experts, and bouncing ideas off them. I came away with a great many new thoughts on how to use these technologies in my classes, and my division."
Whisenhunt said the he was pleased with the turnout, both of presenters and attendees, a sentiment Carter echoed.
"I'd just like to say thanks to all the people that showcased," Carter said. "I think it sparked a lot of ideas among the faculty and staff, and I heard positive reports from people even before I made it back to my division."
For more information about Convergence, email Whisenhunt at twhisenhunt@occc.edu.
To contact Jeremy Cloud, email editor@occc.edu.