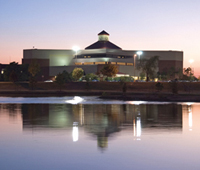 The Communications Lab will conduct two information sessions about their ECHO online tutoring system June 13 in CU2.
ECHO is an acronym for Electronic Communications Help Online.
The tutoring sessions will last about 30 minutes and will run from 10 to 10:30 a.m. and again from 1:30 to 2 p.m., said Rachel Olsen, Communications Lab supervisor.
Olsen said the sessions are planned because English Comp I and II students are required to have a tutoring session with their essays this semester.
"We thought that it would be helpful to give people a refresher in how to use ECHO, make it a little easier for them."
The ECHO system consists primarily of Skype chats with tutors, Olsen said.
The students send in the essay or paper they need help with and then the tutor walks them through any issues with the paper over a Skype video chat.
"We are also making ECHO available over e-mail if a student has more than 48 hours before their essay deadline because the e-mail exchange takes more time," Olsen said.
"So if a student is really down to the wire, a chat session might work better for them. But if the student has some time and wants a more leisurely conversation with the tutor, we'll allow an e-mail exchange."
The information sessions will include a demonstration of the video chat tutoring, and a question and answer session, Olsen said.
She said if students or teachers are unable to attend, the Communications Lab also would provide the information in alternate ways.
"We will happily come to a classroom and do a demonstration for a specific class," Olsen said.
"Also, students can always call the Comm Lab or come by or e-mail us to find out how to do an ECHO tutoring session."
ECHO is available during the Comm Lab's normal hours of operation, from 9 a.m. to 5:30 p.m. Monday through Friday.
For more information about ECHO tutoring or to request an in-class demonstration, contact Olsen at rolsen@occc.edu, or call 405-682-1611, ext. 7142.
In addition, you can visit the Comm Lab website at www.occc.edu/comlab [1] or their Facebook page at www.facebook.com/commlab [2].