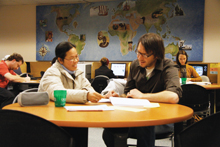 Mike Wormley/Pioneer
Mai Nguyen, child development major, receives assistance writing a paper from Senior Communications Lab Assistant Brandon Isaak.
More tutors have joined the Communications Lab staff to help students with their reading and writing skills this semester.
Supervisor Rachel Olsen said she has been obligated to hire more tutors because of the high demand for tutoring sessions, bumping the tutoring pool from eight to 12.
"We see about 190 students for tutoring sessions a week on average," Olsen said.
The lab has seen a 30 percent increase in the number of tutoring sessions they have had so far this year compared to last year's numbers.
The Communications Lab does not allow students to schedule appointments for tutoring. The lab offers the sessions on a first-come, first-serve, or "walk-in" basis.
Olsen said she thinks its better that students don't have to worry about how to schedule an appointment. They can just walk into the lab and ask for help.
"I never have to wait that long to get help from a tutor at the lab," said OCCC student Miguel Garcia.
"Sometimes when it's around midterms or just really busy, I might have to come back later in the day," Garcia said. "But I usually never have to wait more than five minutes."
Olsen said the lab is open from 8 a.m. until 9 p.m. Monday through Thursday, 8 a.m. to 3 p.m. Friday, and from 10:30 a.m. until 2:30 p.m. on Saturday.
She said she has even seen an increase this year in the number of students who show up on Saturdays to get help.
The Communications Lab staff now includes 12 tutors, two work-study student employees who manage the front desk, and three full-time lab assistants.
Even though the number of students using the lab is up, the space in the lab is the same, resulting in somewhat of a tight squeeze.
"We are busting at the seams at certain times in the lab," Olsen said.
"In a semester we have about 20,000 visits from students. So there are times where all the computers are full and the tables are packed with students."
Olsen said she dreams of the day when the lab has more space.
"As far as my vision for the lab's future, eventually I would like the lab to move to a larger space that not only provides tutoring areas and computers for student use, but also a computer-assisted classroom that could be used to present workshops, facilitate group tutoring, and conduct special classes.
She said she would also like the Communications Lab to have a space that students could use to prepare and practice group presentations and projects.
"Overall, I see the Communications Lab functioning as a multiliteracy center that can provide even more of the services and events that we already offer to students."
To contact Morgan McGuire, email onlineeditor@occc.edu.