College student wins automotive contest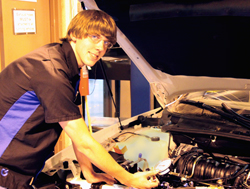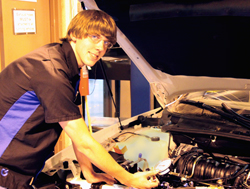 Daniel Murphy, automotive major, checks the fuel rail pressure on a Buick LeSabre in the Automotive Lab. Murphy placed first out of 25 students in the SkillsUSA State Secondary Contest of Oklahoma.
OCCC automotive student Daniel Murphy recently won first place in the SkillsUSA State Secondary Contest of Oklahoma at the OSU Institute for Technology in Okmulgee.
The event was an automobile skills contest highlighting different areas of auto care. Murphy won after demonstrating 12 different types of auto care and maintenance.
Murphy, a high school student when he won, will attend the national competition in Kansas City later this month.
"The feeling of winning this competition was very rewarding and I couldn't be happier," Murphy said.
"The competition involved measuring brake drums and rotors with a micrometer, repairing torque converters, and three or four categories involving electrical systems in which I measured voltage and amps," he said.
Murphy is preparing to enter OCCC's Automotive Service Education Program. The ASEP program is specific to General Motors vehicles and is sponsored by GM, Murphy said.
Automotive Technology professor Jason Ferguson was pleased at the win.
"I've only had Daniel for two classes but he's been an exceptional student," Ferguson said.
Murphy said became hooked on car repair when he was in eighth grade and his father bought a 1997 Thunderbird with a blown head gasket.
"My father and I overhauled the engine," he said.
"The feeling of bringing something that was dead back to life was amazing."
He said he will be completing his internship at at Bob Moore Cadillac Saab in Norman.
"Short term, my goal is to be the best mechanic in the shop," Murphy said, "and eventually manage my own automotive shop someday."