College president urges students to visit state capitol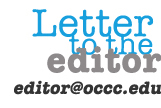 Letter to the editor |
Your chance to have your voice heard by your representatives in Oklahoma government is here
To the Editor:
Higher Education Day at the Capitol is Tuesday, Feb. 16 at the State Capitol, 2300 North Lincoln Boulevard.
Higher Education Day is an excellent opportunity to visit your legislators and explain OCCC's important role in higher education and in economic development.
To prepare you for this event, we will provide you an informational packet containing contact information for your legislators, some key talking points about current issues related to Oklahoma's higher education, and additional program details.
You may obtain these legislative visit packets on Friday, Feb. 12, from 9 a.m. to 5 p.m. in the President's office.
A carpool sign-up will also be available for any faculty, staff, or students.The carpool will leave campus at 9 a.m. and there will be hourly shuttling to the Capitol from OCCC.
The Higher Education Day program begins at 2 p.m. in the House of Representatives Chamber at the State Capitol.
You are encouraged to visit your House and Senate members individually or in groups prior to the program.
Please sign-up for carpooling in the Office of Student Life.
If you have any questions about the event or about your elected officials, or wish to register for Higher Education Day at the Capitol, please contact Ms. Aislinn Burrows at (405) 682-7879 by phone or via email at aislinn.v.burrows@occc.edu.Student attendance is encouraged.
Thank you.