College for Kids offers summer memories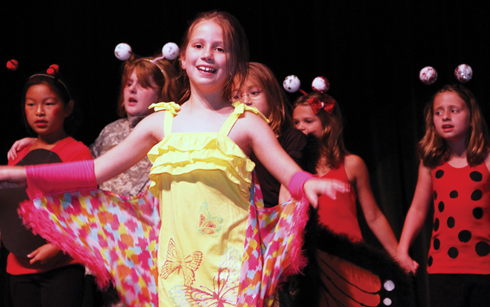 With summer here, OCCC offers College for Kids for children in grades one through eight. And, with a majority of the classes costing around $39, it can be quite affordable.
Youngsters can enroll in a variety of classes from Jr. Astronaut and Intermediate Guitar to musical theater class.
A recent theater class performed the musical "Bugz."
Cristi Cary Miller and Jay Ferguson, co-directors for "Bugz," said they enjoyed the time and interaction with the kids.
"The camps are fantastic, affordable, and the kids get so much," Ferguson said.
"It's cheaper than daycare."
He said the cast of "Bugz" ranged from kindergarten to fourth grade.
Miller said, when musical theater camp started, the kids had no experience. Now, she said, they know six songs and dances.
The campers learned about the inner workings of theater, she said, and were able to take what they were taught and put it in motion.
"It has been a great week," Miller said.
The next Musical Theater Camp is "Godspell" which takes place July 18 through 22 and July 25 through 29.
To enroll in College for Kids, call 405-682-6222. Children also can be enrolled at the Family and Community Education Center located at 6500 S. Land Ave. in south Oklahoma City.
The final College for Kids camps of the summer will be July 25 through July 29.