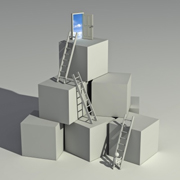 Image courtesy of FreeDigitalPhotos.net
Students who aren't sure of what they want out of their degree might consider attending this fall's section of PSY-1001, "Career Exploration."
"It is a bit like the Success in College and Life classes," said Debra Vaughn, Student Employment and Career Services director.
But, according to Vaughn, the difference is while the success classes are more broadly focused on study, degree tracks and how to get through college, "Career Exploration is a look at one of the slices of that success class, how to plan a career," she said.
"SCL is about getting started. Career Exploration is about getting launched."
Vaughn, who teaches the fall preparation class, said one of the misnomers she has to clear up at the beginning of every class is that while it does have a psychology subject code, PSY-1001, it's not just about psychology.
"We cover all different kinds of degree programs. Medical, legal, engineering, sciences, everything," she said.
Vaughn said one of her favorite examples is to point out the Prosthetic Technician degree program in the catalogue before taking her students to the website of a prosthetics company and showing them patient testimonial videos.
"We want to show them 'if you get this degree, this is what you could be doing.' So for a student getting that prosthetic tech degree, they could be helping people," she said.
"We want to give them that personal connection. 'These are the people you can help, this is what you can do,'" she said.
But the class doesn't just cover different degree options, and the careers associated with them, Vaughn said. It also looks at what students need to do in college to get prepared for those careers.
"For instance, a student comes to me and says, 'I'm pre-med;' well that's wonderful, have you applied to the nursing program yet? You'd be amazed at how many students don't know about competitive entry, or at how many different fields and schools in those fields use it," Vaughn said.
"I didn't know about it back when I was starting school as a freshman. I mean, you think, well I'm in college now, and I'm paying to be here, why do I have to be accepted into a school I'm paying for already?" she said.
Vaughn said it's the little pitfalls like that which she hopes to teach her students to avoid. She said the class also covers many of the topics her department offers seminars on, such as dressing for an interview or writing a resume.
"We actually do an inclass presentation on how to tie a tie," Vaughn said, laughing.
"It always goes over so well, even with the lady students! It just surprises them, windsor, half-windsor, shelby, bow-tie. Who knew there was so many ways to wear a tie?"
Vaughn said she enjoys teaching the classes, and is looking forward to her fall section. "It's always great. The students are wonderful."
For more information, contact Vaughn at 405-682-1611, ext. 7362 or visit Student Employment and Career Services in room 1G7 on the first floor of the Main Building.
To contact Jeremy Cloud, email editor@occc.edu.