Chris Kattan to star in college's first feature film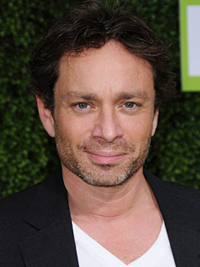 Sara De Boer / Retna Ltd.
Chris Kattan
When the Visual and Performing Arts Center produces OCCC's first-ever feature film on campus this summer, heads may turn.
Chris Kattan has been signed to star in the film "Just Crazy Enough," said Sean Lynch, the film's producer and Film and Video Production equipment coordinator.
Best known for his characters on "Saturday Night Live," Kattan also has starred in "A Night at the Roxbury," and "Undercover Brother," and is currently playing Bob in the television show, "The Middle."
Lynch said the film is a comedy.
"It's about twins separated at birth," he said. "One is a psychiatrist and one is a mental patient, and they get swapped so it's kind of a zany, fun '80s-style comedy."
Production begins July 1 and will wrap July 22, Lynch said. The film will be shot in various locations around the college, he said.
Students in Film and Video Production professor Greg Mellot's class are producing the film.
The 30 film students began class June 20, he said.
"This is how they get the hands-on experience," Mellot said.
"The students sign up for specific positions and they receive instruction during this production time."
Sophomore Nathan Milam is one of those students.
"I myself am a boom operator," Milam said. "I do the dialogue sound over the actors. I've already got three years experience working in other productions but the classes themselves have helped us with dialogue and knowing what certain terms are.
"The professionals that have been hired to help us as far as what they do for a living are going to come help each one of us in our job requirements and show us how to do it properly and effectively," Milam said.
Lynch said his job is to make sure everything goes smoothly.
"Putting it together, that's my whole job — just making sure nothing goes wrong, everything's right, we have all the right locations, we have the cast taken care of, all the forms and insurances — basically making sure this thing doesn't fall apart," he said.
Lynch said he produced a feature film in the past at Oklahoma City University.
Mellot said it took longer to do the same at OCCC because of funding constraints.
He said, at OCU, the students were charged $4,000 to take the film production course, which is where the money to make their film came from.
At OCCC, students pay around $300 for the course, he said, so the money to make the college's film had to be raised mainly through donors.
Lynch said it will take three to five months to post-produce the film.
Then, he said, the college plans to sell the movie in order to get the donated funds back and fund future films.
For updates about "Just Crazy Enough," read the Pioneer Online at www.occc.edu/pioneer.