Raising Cane's
Summary:
various delicious items
Raising Cane's chicken fingers are some of the best in the state. The restaurant has various delicious items on the menu, but if you go there, you know the menu items revolve around their chicken fingers.
On the occasion that I have dined there, Cane's chicken fingers and service did not disappoint.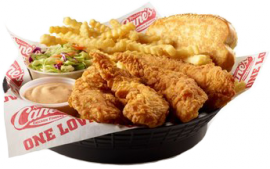 My favorite order, the Caniac Combo, is served with six of Cane's delicious chicken fingers, the best crinkle-cut fries, a good-sized cup of coleslaw and a piece of Texas Toast. The combo also includes two of Cane's sauces and a large drink. It costs $9.98 plus tax.
The Cane's sauce complements their chicken fingers to the utmost degree, adding a sweet, but slightly tangy, taste.
For the accompanying large drink, I highly recommend filling your 32-ounce cup with Raising Cane's sweet tea. Their tea is one of the best compared to all other fast food chains.
What satisfied me most is that Cane's offers various sizes of chicken finger orders — from a small individual order to enough to feed a large crowd — amounts that would be enough for tailgating at an Oklahoma Sooner football game, for instance. You can order a 25-piece, 50-piece, a 75-piece, or even a 100-piece chicken finger serving.
Those start at $27.49 for the 25-piece to $84.99 for the 100-piece.
The only downfall is the prices are a bit high for someone with a limited income so I wouldn't recommend eating at Raising Cane's every night.
However, if you have the money to spend and you can't decide where to eat, I recommend taking yourself and your money to Raising Cane's.