Chevelle gives fans 'bang for their buck'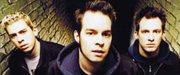 As much as an hour before the doors even opened, hundreds of fans were lined up in anticipation of the performance to come. If you wanted a rock concert, you got one on March 16 in Oklahoma City. The band Chevelle headlined the show in the Diamond Ballroom, giving fans in attendance a bang for their buck.
Chevelle is known for their straight-forward approach to the music they create — hard rock with no frills, nothing flashy, and definitely never straying too far from what made them in the first place. This same characteristic applied that Friday night as no fan left disappointed. Chevelle came, they saw, and they conquered Oklahoma City — at least the hundreds inside the Diamond Ballroom.
You wouldn't have known the Oklahoma City stop on the tour was their second-to-last as the energy of both the band and crowd maintained throughout.
As a result, the Diamond Ballroom turned into a glorified sauna. Frontman Pete Loeffler went to Twitter following the show to sum up their night in Oklahoma.
"Hottest show of my life tonight! Didn't matter, everybody in OKC threw down with us!"
On the heels of the release of their latest album "Hats Off to the Bull," the band showed off a bit of their newest material. But as most bands often do, Chevelle played a variety of songs from their catalogue, both new and old.
Of course popular favorites such as "The Red," "Closure," and "Send the Pain Below" were played, but lesser-known gems such as "Forfeit" and "Wonder What's Next" arguably got the biggest rise from the crowd.
Even though Chevelle was the headliner, the opening bands weren't just time-wasters at this concert. Middle Class Rut set the stage for Chevelle with their notable performance. Despite being just a guitar-drum duo, they played with a sound you'd expect from a five-piece band. Judging by the number of bobbing heads in the audience as they went on, MC Rut will likely gain a following as any talented band should.
With the combo of Middle Class Rut and Chevelle (along with the first opening act Janus), the Diamond Ballroom was host to a solid gathering of bands and an enthusiastic crowd. Here's to the next time Chevelle makes a visit to the red dirt state. They'll have quite the welcome-back party when they do.
Rating: B+
—Morgan Beard
Staff Writer
To contact Morgan Beard, email pioneergraphics@occc.edu.