Celebrate pride, not negative past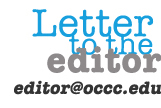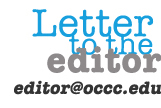 To the editor:
I was told that there would be an article on Native American Heritage month in the Nov. 9 paper.
When I saw the article I was less than impressed by it and honestly, a little offended.
Native American Heritage and Pride, the title of the article, was disheartening to read.
When I think of my personal pride for my native culture, I believe that, yes, it is important to recognize the past and the hurt that our people have gone through in the the past years of turmoil.
However, there is the side of pride and tradition that is celebrated throughout this entire month.
Many Native students, like myself, felt disappointed that our people's culture and successes were not highlighted, as should have been according to the title of your article. OCCC has many Native students on this campus who are successful and forces to be reckoned with in an intellectual and cultural world and none of that was highlighted.
We have over 2,000 Native students on our campus. Such things as how we celebrate who we are and how our ancestors played a huge role in our present success as a people and as the great nations we have become today should be some of the great successes recognized.
The article represented one person's opinion on a very broad subject.
The quote, "My people are originally from Florida.
"I am a direct descendent of Chief Wild Cat, the guy who kicked Andrew Jackson's ass in the Great Seminole War," was not a quote that represented us as a people.
We have flourished through time dispite the obstacles they have endeavored and many other Native students would agree.
I would have liked to have seen more about our culture/heritage being that it is Native American Heritage Month as well as Cultural Awareness Month, instead of what was written, which was not at all about our heritage. It was not an article that represented who we are as a people in a respectable manner.
Yes, I agree that we should celebrate our heritage as often as we can; however, Native American Heritage Month is much more than the article represented.
I am thankful that there was some recognition but I would like for non-Native people to remember this article as something positive and uplifing about who our people and our heritage is really about.