CDCLS students learn about gardens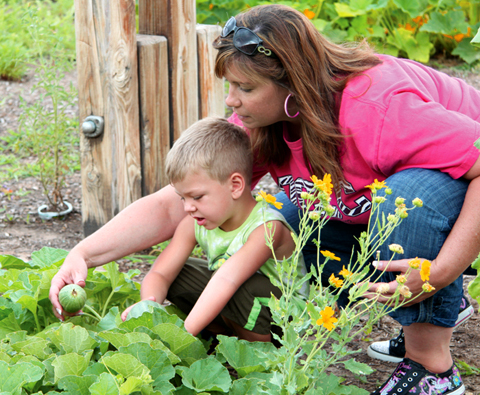 Ethan, 4, Child Development Center and Lab School student, checks the progress of a watermelon in a garden the center's students planted with the help of Lisa Jones, CDCLS teacher. Jones said the garden has helped the children learn about the process of growth and has given them a sense of pride knowing they have taken care of something and watched it grow. "It is important that the kids realize and learn that food doesn't magically appear at the grocery store," she said. (Christy Johnson/Pioneer)
The children at the Child Development Center and Lab School have harvested vegetables every morning in their garden this week, Lisa Jones, teacher and lab assistant said.
The garden, planted in May, has sunflowers, squash, okra, watermelon, sunflowers, sweet potatoes, and strawberries, she said.
Jones said the children are harvesting their plantings to learn about things that grow and how they grow.
"It is important that the kids realize and learn that food doesn't magically appear at the grocery store," she said.
Last week the students harvested squash and okra which was then cooked for the children's lunch, Jones said.
She said the garden has helped the children learn about the process of growth. It gives them a sense of pride knowing they have taken care of something and seen it grow.
OCCC's ground contractors funded the project, planted the seeds and designed the garden, Jones said.
Each day when the children go out to the playground, the ones who are interested help weed the garden and harvest it, Jones said.
Kylie, a 5-year old student at the CDCLS, said her favorite thing to grow is the sunflowers.
The children also are excited about one special summertime treat growing in the garden, Jones said.
"We've been watching the watermelon," Hailey, 5, said.
Still, Jones said, other children are more excited about the non-plant life in the garden.
Jones said a family of rabbits that lives in the wood on the playground, but hides in the squash, has caught the students' attention.
"The kids always chase the rabbits around the playground, and we chase them trying to get them to stop chasing the rabbits," she said.
It's quite an event."