CDCLS director wins Robert P. Todd Award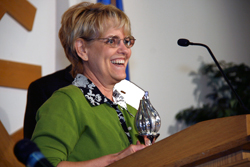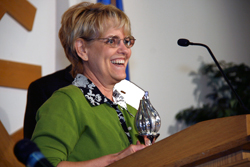 Child Development Center and Lab School Director Mary McCoy receives the Robert P. Todd Leadership Award during convocation Aug. 16.
The Robert P. Todd Leadership Award, named for OCCC's eighth president, recognizes an OCCC employee who has demonstrated outstanding leadership in his or her work. Photo provided by OCCC.
This year's recipient of the college's annual leadership award directed a multi-year project to move the Child Development Center and Lab School to its current location about one mile north of campus.
Dr. Mary McCoy, director of the CDCLS, was recognized with the Robert P. Todd Leadership Award at the 2011 Convocation and Employee Awards Ceremony on campus in August.
The CDCLS was formerly housed on campus but relocated to larger quarters at the Family and Community Education Center in January after Western Heights school district donated an old elementary school through the City of Oklahoma City. McCoy said she was involved in every inch of the planning and designed the best use of the new facility.
"I was very surprised and pleased to receive this award," McCoy said. "I have a tremendous staff and they do an amazing job of making me look good."
The process of moving took several years and approximately 20 staff members to plan and coordinate, McCoy said.
Originated in 2006, this award is named for the late Robert P. Todd, who served as OCCC's eighth president, said Marion Paden, vice president of Enrollment and Student Services. This award is given to employees who display outstanding leadership in their work.
Candidates for this award are nominated by their peers and selected based on leadership qualities including excellence, respect, honesty and integrity.
Paden spoke to some of the qualities that she believes made McCoy perfect for this recognition.
"Dr. McCoy made this a smooth transition to the new facility and provided leadership for the families, staff and supporters of the CDCLS," Paden said. But the move was not the only accomplishment McCoy deserves credit for, Paden said.
"Dr. McCoy accepted the challenge of finding a way to provide high-quality, low-cost child care to the students of OCCC. She developed what we now refer to as Student Scheduled Child Care."
As a result of McCoy's development of the Student Scheduled Child Care program, students at OCCC may enroll their child in time blocks of three hours for $5 to $8, depending on whether meals are served during their session.
This program has created new opportunities for students with children to be able to attend school, Paden said.
McCoy is in her ninth year serving as director of the Child Development Center and Lab School.
To contact Shelley Branum, email onlineeditor@occc.edu.