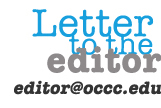 To the Editor:
The two articles in [the Jan. 13] Pioneer have misinformation.
1. Financial Aid Title IV Regulations, pertaining to Satisfactory Academic Progress (SAP), went into effect July 1, 2011, for SAP evaluations beginning with fall semester. The Financial Aid Office has made numerous attempts to inform students and our campus colleagues of these changes.
2. The Financial Aid Office staff made numerous presentations to students in the Success in College and Life courses [during] the fall semester, during [which] changes in the SAP policy were explained.
Read More