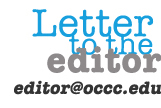 To the Editor:
The possibility of war with Iran has never been greater. Daily there are new provocations, and at each step, the threat of hostilities escalates.
A third U.S. aircraft carrier has passed the Straits of Hormuz and entered the Persian Gulf. There have been attempts on the lives of Israeli diplomats. Iran nuclear scientists have been the victims of what could be covert operations on the part of the Israelis.
Defense Secretary Leon Panetta has said the Israelis might attack Iran's nuclear facilities between April and June.A conflict with Iran would be disastrous for the world.
Read More