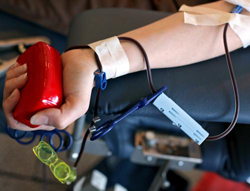 Blood will soon be shed on campus — but for a good cause.
Student Life and the Oklahoma Blood Institute will host a blood drive 10 a.m. to 3 p.m. June 22 and 23 in the College Union, said Katie Treadwell, Student Life programs coordinator.
Treadwell said the drive is the first of the semester.
To give blood, donors must be at least 17 and weigh at least 110 pounds, said Lindsay Cobb, OBI representative.
Read More