Carson's not student friendly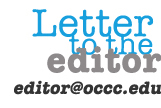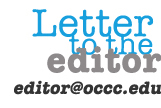 To the Editor:
It is the first week back and already students have begun to notice problems with the college's available food service.
Students have already started to complain about the wait time for cooking food. Any student interested in eating after 4 p.m. should expect waits of five, eight, even nine minutes before their food is ready. While the College Union stays open clear to 6 p.m. they seem to stop cooking food at 4, well before the dinner rush, leaving students in a hurry between classes out in the cold if they are interested in picking something up quickly.
At 5 p.m. Aug. 23, a clear hour before the union was to close, the only foods to be found in the grill line were ice cold stale French fries and mashed potatoes with a skin so thick it is questionable if they were ever edible. From one student to another, if you plan on eating at school after 4, bring a bag, eat at home, or grab some fast food on the way. The Union may say it stays open late for your convenience, but it apparently sells out at 3, along with all the hot food.
— Name withheld by request