Campus police operate like any city department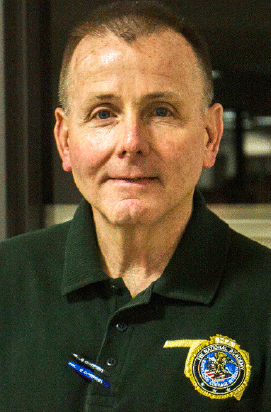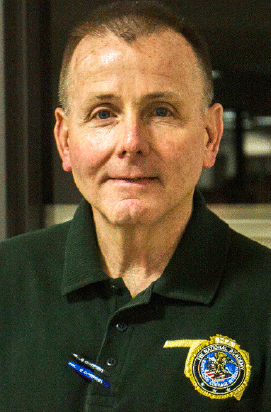 Having a commissioned police force on campus is a plus when seconds count in an emergency, said OCCC Police Chief James Fitzpatrick. He spoke in an interview explaining the importance of having campus police as opposed to campus security guards.
"The benefit of having police officers right here (is,) within a minute — sometimes less than a minute away from when you call for help — you've got somebody there," Fitzpatrick said. "For your safety, that's irreplaceable."
Campus police can handle the same calls for help that a city police officer would; whereas, in the past, campus security officers would have to call the Oklahoma City Police Department when things went wrong.
Education major Aire Thorne told how the campus police helped her after a hit-and-run accident damaged her vehicle.
"They were super nice," Thorne said.
"They taught me some things I didn't really know. I was supposed to have my (driver's) license changed within 10 days of moving."
Thorne said she feels having a police force on a college campus is necessary.
"If you don't have campus police … I wouldn't feel safe," she said. "You have thousands of people around you and no one to keep order."
Fitzpatrick said the police at OCCC are ready and able to handle any situation which may appear in a campus setting. He said campus police ensure the safety of students.
"To be a police officer in the state of Oklahoma, you have to have a CLEET Peace Officer certification," Fitzpatrick said.
"Oklahoma City Community College does not hire anybody without their certification."
Campus Police Officer David Madden said that being a police officer on campus is similar to being an officer in the city.
"We have nowhere near what Oklahoma City has in call volume, but we get the same type of calls," Madden said. "We get everything from domestic violence, to larceny, to burglary."
Madden said being a campus officer does not limit his authority to campus alone.
"A lot of students don't realize that we are a police department," Madden said.
"We're a state agency. We make traffic stops. We can get out on city streets. If you leave the property, it doesn't mean we can't come after you."
Familiarity with the campus helps the officers work better and faster.
"We have a confined environment," Fitzpatrick said. "We've got 297 cameras. Very little can go on on this campus that we can't at least figure out who were the parties involved  … ."
Another advantage of having police on campus, according to Madden and Fitzpatrick, is that a campus police officer has complete ownership of a crime case.
"One of the things about Oklahoma City is that an officer there will take an initial call and then pass it on to a detective, versus here, (where) you work the call from the time that the crime occurred all the way through all of your paperwork, to submitting charges to the district attorney, to going to court … ," Madden said.
Fitzpatrick agreed.
"We're able to actually bring resolution to a case," he said.
Fitzpatrick also talked about how campus police are not only helpful for handling crimes on campus but also performing public service functions.
"We respond to emergency medical calls and we obviously handle if any kind of fire alarm is activated here," he said.
Fitzpatrick said his department looks to hire service-minded individuals.
He said a campus police officer should have a personality that is looking to be a help to the students on campus.
Fitzpatrick gave examples of what the campus police will do to help.
"We'll escort them to their cars," he said. "If your battery needs jumped, we'll jump it for you. If you lock your keys in your car, we'll get you in the car."
For more information on the OCCC Campus Police Department, email Fitzpatrick at jfitzpatrick@occc.edu
To contact Timothy Smith,email onlineeditor@occc.edu