Campus clubs see blue on Student Involvement Day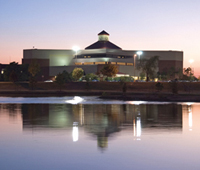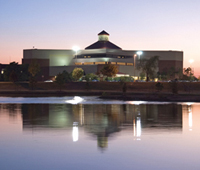 Over 100 students wore blue long-sleeve shirts despite the temperature being in the upper 70s on Wednesday, March 14.
Students representing various activities came together under the direction of Student Life for Student Involvement Day, the first celebration of extra-curricular activities the school has put on.
Mariah Fernandez, Native American Student Association representative, said student involvement was very high.
"Students are more active the more involved they get," Fernandez said. "The more involved they are the more they can see what impact they have."
She said activities like Student Involvement Day are good for showing people what being a student is about.
"Being active has helped me become more outgoing, meet new friends, and be more involved," Fernandez said.
Seven-year faculty sponsor of student organizations, Professor Stephen Morrow, said he finds the level of student involvement interesting.
"It is very interesting how the student interest waxes and wanes," Morrow said. "There are high years and low years."
He also said that ideally he wished for a constant growth.
"As an institution we wish for a steady growth because we know involvement outside of class means higher success," Morrow said.
Amy Reynolds, Student Life assistant director, had a positive outlook on participation.
"Involvement is on an up-swing," Reynolds said. "By having programs like these we are offering students who are involved leadership opportunities, communication skills, and resources."
She said she was "thrilled" with the turn-out.
"This is more than we expected, but when you offer a free shirt and free food people will turn up."
For more information about Student Life or to join a student organization, contact Student Life at 405-682-7523.
To contact Mike Wormley email him at staffwriter4@occc.edu.