Campus club honors new regent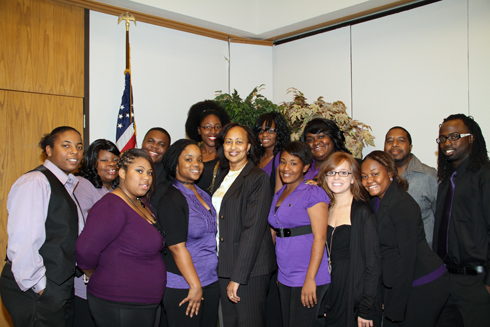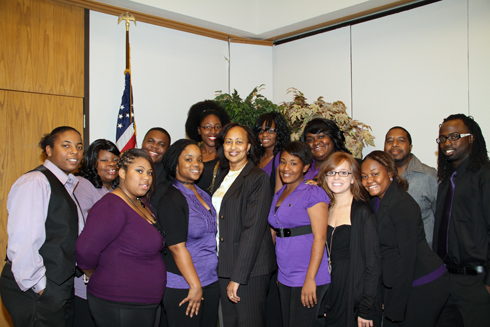 Rachel Morrison/Pioneer
Members and officers of the BSA welcome the first African American female Regent Lenora Berdine during the meet and greet reception hosted by the BSA. Front Row (left to right): 1. Justine Ellis 2. Dayshawn Burns 3. Lenora Berdine 4. Ashley Thomas 5. Diamond Ramirez 6. Renitta Server Back Row (left to right): 1. Gariece McDonald 2. Justin Ellis 3. Matthew Bediako 4. Shana McLaughlin 5 Shanice Anderson 6. Ceterria Wright 7. Chris Hill 8. Samir Howard
OCCC's first African-American regent Lenora Burdine, was honored with a welcome reception held in the College Union Wednesday, Nov. 10.
The reception began with Black Student Association President Centerria Wright highlighting Burdine's past accomplishments.
A rose ceremony followed with seven of the BSA officers reading words they had written about what Burdine's accomplishment as the first black board college regent means to them.
As each officer finished reading the special words in honor of Burdine, she was presented with a rose.
BSA club officers read "Phenomenal Woman," a poem by Maya Angelou.
President Paul Sechrist was among those in attendance at the ceremony. He said he feels good about Burdine's appointment to the board.
"It is important for students to see people who look like them," he said. "It is easier for them to be able to identify with that person.
"Her appointment is representative of this school, and the caliber of hard work and determination," he said.
Burdine said she didn't do anything special to get her position.
"It was the Lord, keeping me in his grace," she said.
Burdine said she is happy the Black Student Association took the time out to recognize her.
"It makes me feel good. It makes me feel proud," she said.