Cameroonian student talks confidence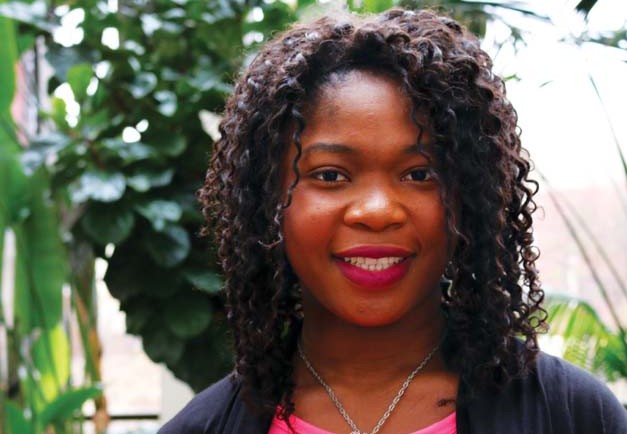 Cameroonian student and pharmacy major Eyere Obi Vera is determined to reach for the stars on her journey in America.
Unlike some international students, Obi Vera plans to stay in the U.S. for the duration of her life.
Obi Vera said there are some major differences between her country and the U.S., starting with the education system.
"Education here in America is really simple," said Obi Vera. "What is studied in college here, we've pretty much studied in high school."
Obi Vera continued, saying she appreciates everything America has to offer.
"That's what I love about America, there are many opportunities, like financial aid," she said. "It's not like that over there. If you can't afford it, you don't get it."
Another difference she spoke of was the constantly moving American society.
"If I was back in Africa, I wouldn't be working. I would be sleeping and enjoying my bed," she said jokingly. "You rarely see someone who is 18 or 19 with a job. You have to be like 25, maybe with a bachelor's or a degree in your hands before you can work at a real job. Here it's work work work."
She said she has been in the U.S. for four years, and this is her second year at OCCC.
"One of the things that gave me my first welcome here was my aunt," she said. Her aunt was living in the U.S. prior to her coming here.
"She asked me to sign up for the ACT," Obi Vera said. "I didn't have any practice exams, I wasn't used to American education. I flunked it."
She said luckily her ACT score was high enough to attend OCCC.
She is pursuing a pharmacy degree, and intends to transfer to a university after leaving OCCC.
"I always wanted to be in the medical field, but I didn't know exactly what I wanted to do," Obi Vera said. "For some reason, I just developed a love for pharmacy. I've worked in the pharmacy before and it's amazing how things go.
"I'm actually planning on transferring to maybe OU or out of state," she said. "I don't mind moving."
Her aspirations don't stop there, of course. Obi Vera says after she gets her pharmacy degree, she wants to pursue an acting career.
"I want to be a major actress in the United States," she said. "In high school I was doing all these little dramas, you know, and all these little plays. There was actually a movie in Cameroon where I'm from, and I actually featured in the movie."
In regards to her accent affecting her possible acting career, she said she doesn't let it stop her. She looks to Mexican-Kenyan actress Lupita Nyong'o for inspiration, noting despite her accent, Nyongo has achieved huge success.
Obi Vera expanded on details about her country of Cameroon, including its geography and language.
"We don't have states, we have provinces like the Southwest Province, or the Northwest Province," she said. "It's different in the way that it's categorized. Some regions speak strictly English, some regions speak strictly French, and some regions speak both. I'm from the region they speak strictly English."
In contrast to other parts of Africa, Obi Vera says Cameroon is free of violence and conflict.
"In my country, it's really peaceful," she said. "You usually hear about all of that crazy fighting and everything. It's a different country, I've never witnessed war all my life growing up there."
She said it's important for people coming from other countries to start a new life to be confident in themselves.
"There are a lot of opportunities out here, I'm amazed," she said, in reference to America. "You just have to go get it. There are always going to be distractions. You have to aim for the highest height, and to aim for the highest height you have to have personal self confidence.
"Build confidence. If it's just studies you're going for, get the job done."