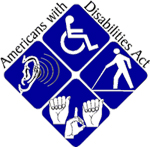 OCCC follows numerous laws and policies. Among those policies one of the most important to maintain compliance with is the Americans with Disabilities Act , said Pat Stowe, Student Support Services director. Stowe said the college adheres to the law.
The ADA is essentially protecting against discrimination of Americans with disabilities, Stowe said.
"Everyone on every campus has the same access to an education. When students enter college it becomes their responsibility to let us know that they have a documented disability," Stowe said. "It's our responsibility to get the information out there."
The college has two rooms in the testing center for reduced distractions for students that have documented disabilities, she said.
"For instance, students who cannot see well enough to read can have the textbooks converted through a lengthy process to audio, then students can pick them up at Student Support Services," Stowe said.
Read More