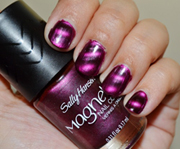 When somebody describes you as magnetic, they're usually talking about your striking personality.
Now, thanks to the latest in Sally Hansen's ever-expanding line of revolutionary nail polishes, they might be talking about your fingertips instead.
The appropriately-named Magnetic nail polish is the successor of the brand's Crackle Overcoat, a product that, sadly, did not live up to expectations.
But fret not, fellow nail polish connoisseurs — Magnetic is everything it promises and more.
Read More