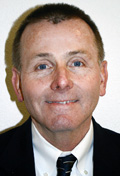 College Police Chief Jim Fitzpatrick said he knows exactly when he decided to become a police officer.
It was the summer of 1972. Fitzpatrick had come to Oklahoma from the Bronx in New York City to pursue a degree in Liberal Arts from St. Gregory's University in Shawnee.
It was there he stumbled onto a summer internship with the Oklahoma City Police Department while looking for a job that he might be interested in.
Fitzpatrick was riding with a police officer when they were called to a gruesome triple homicide involving a convenience store clerk, her husband and their young son. They were all shot and killed execution-style in the store's back room.
The killers escaped with $50.
Read More