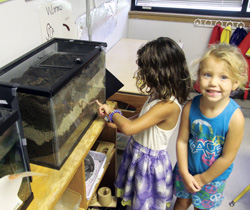 Worms don't gross out the children at the Child Development Center and Lab School, said Alexandra Sitzman, early childhood education major.
Students in preschool A at the CDCLS studied several kinds of worms July 5 to 9.
As part of their project, the children set up an aquarium that contains Night Crawlers, Sitzman said.
"They also constructed individual aquariums made out of two liter soda bottles," she said.
"The children are really interested in worms right now."
All of the children in preschool A are involved with the worms.
Read More