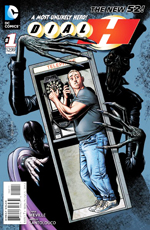 Pelican Army and Captain Lachrymose are just a few of the new heroes dialed up in DC Comics' new crazy monthly comic book series "Dial H" by writer China Mieville (author of the science fiction book "The City and the City") and artist Mateus Santolouco.
The series stars an out-of-shape and jobless protagonist named Nelson who aimlessly drifts through life after being dumped by his girlfriend.
When Nelson witnesses his friend Darren suffer a savage beating at the hands of thugs, he accidentally dials HERO on a rotary phone booth while trying to call for help, instantly transforming him into a superhero for a limited amount of time.
Read More