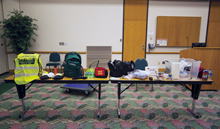 In a state where tornadoes are routine and earthquakes are an occasional event, people need to know how to prepare for an emergency.
"Unfortunately, many people don't," said Lisa Teel, OCCC's director of emergency planning and risk management.
The Community College Citizen Preparedness Program is a national program aimed at training citizens through 125 community colleges on specific protective actions that, following a disaster, help save lives and reduce injuries before first response teams arrive.
Emergency situations to prepare for include terrorist threats or attacks, technological problems like power outages, and natural disasters like floods, tornados, ice storms, and earthquakes.
Read More