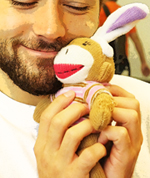 When it comes to purchasing your first sock monkey, you will want to make sure you are getting a quality product for your pay. Like children, sock monkeys require lots of love and attention.
The sock monkey craze is almost as colossal as the mustache madness that has taken over the pop culture of America. Understandably so, as sock monkeys are the reinvention of vintage style mixed with the innocence of plush animals.
Sometime in mid-March I bought my first sock monkey from Walmart in front of one of the Easter displays. After I spotted them, I couldn't help but reach into the depths of my pockets and spill out the $7 or so it cost for the sock monkey.
Read More