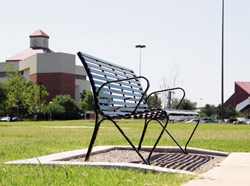 Sixteen benches were recently installed around the Arts Festival site on the northwest side of campus, said Larry Barnes, Facilities Management project manager.
Barnes said the 16 benches surrounding the site each have an L-shaped flower bed in front of the bench.
They are made of black metal and can fit up to four people.
"The benches are there for students and members of the community," he said.
Read More