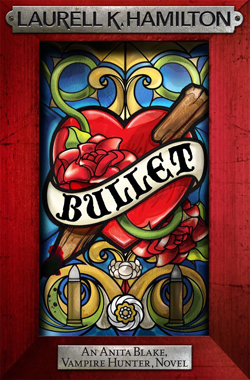 Read an excerpt of "Bullet"
The latest Anita Blake novel, "Bullet," combines a fluid writing style with non-stop action. Packed with sex, violence and magic, Anita's latest adventure is the perfect summer read.
Released June 1 in hardcover format, "Bullet" is 356 pages long. The novel can be found at most major booksellers, such as Barnes & Noble.
Retail price is $26.95, but the book can be purchased for less on Amazon.com or at Walmart.
Continuing the story begun in the last book, "Skin Trade," Anita and her master Jean-Claude begin taking steps to defend the American vampires against the old European council, whose members have seemingly gone insane.
The book moves swiftly, tying up loose ends from the previous 18 books, and setting up the series for a new set of stories and twists.
Although the plot is expertly constructed, "Bullet" would be very confusing to anyone who hasn't read at least some of the previous books. There is some exposition, but it's not enough to make sense of 18 books' worth of backstory.
Few of Hamilton's books can be recommended as appropriate for children or young teens, due to the author's signature blend of sex, fantasy horror, and action.
But in "Bullet," Hamilton takes the sex part to another level, with several chapters devoted to complex scenes of intimacy involving most of the lead characters.
Overall, "Bullet" is a strong addition to the Anita Blake novels.
Containing all the elements that made the series a success, and setting up the series for a change in direction, this book is an essential part of the series as a whole.
For those familiar with Hamilton's novels, "Bullet" is a must-read.
But for those who are new to her works, it might be better to start with an earlier book in the series.
Rating: A+