Budding hip-hop group has potential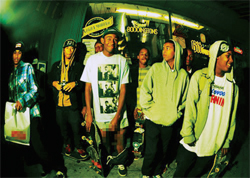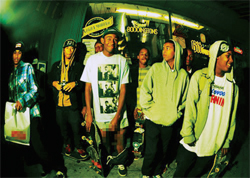 Sex, drugs and hip-hop beats mixed in with jail time and murder raps are an unfortunate side to the realism of music.
Viral hip-hop group Odd Future may indeed end up going down in the history books alongside such groups as N.W.A. and The Wu-Tang Clan.
Although not nearly as polished as the above-mentioned groups, Odd Future has such a wide fan base that this premonition may actually become reality.
The song "Yonkers" by Odd Future creator Tyler has a cool and slightly angry lyrical flow. It is a good song that flows well, if one can get over the blasphemy against Jesus.
Whether it is just over-the-top lyrics or misunderstood poetry, Odd Future is more like an unorganized mess of young fools who have a major following.
They are getting a lot of notice from many top-named people.
Esquire magazine profiled Odd Future in February.
The songs "Swag Me Out" and "Sandwitches" have good beats but are filled with lyrical silliness. This group is young so maybe they will learn.
They have the ability to become one of the greatest hip-hop groups of all time but their work is far from over.
Their effort in musical and lyrical expression is applaudable, but this group sounds like a bunch of kids with nothing to do but sit around and think of silliness to talk about.
Still don't understand Odd Future?
Try to imagine 10 Brotha Lynch Hungs at the age of 9, all on one stage talking about murder and rape.
Then you've got it.
Personal PSA: Odd Future is not for everyone.
Rating: D