Broadcasting students attend awards banquet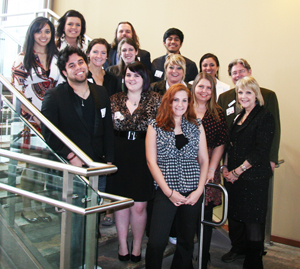 Sarah Hussain/Pioneer
Attendees of the 2011 OBEA awards banquet pose for a group photograph. They are : (front) Nicole Shadid, (second row) Joniel Prouty, Erin Peden, Casey R. Akard, Emily Schorr, Sarah Hussain, Gwin Faulconer-Lippert, Rick Allen Lippert (back row) Crystal Rodriguez, Shea Hunteman, Ashley Cleveland, Brantley Cunningham, Mary McAtee and Victor Quezada.
It was the student's time to shine on March 8 at the Oklahoma History Center where possible employers, students and faculty gathered to celebrate a job well done.
This event was put on by the Oklahoma Broadcast Education Association to award outstanding achievement in student broadcasting for the year of 2011.
OCCC journalism and broadcasting students were among the 10 schools awarded at the ceremony, competing with university students.
This year's speaker was none other than Bob Barry Jr., Oklahoma's News Channel 4's sports director and weeknight sports anchor.
Barry spoke of his own background and gave suggestions on how to get ahead in broadcast journalism.
"To get anywhere, you gotta have gumption," Barry said.
Along with the award ceremony and luncheon, there was a job fair where companies like Clear Channel radio and News Channel Four attended.
The banquet also served as a job fair to students that were looking for a position in the journalism field.
"I think I got a job," said Victor Quezada, broadcasting major.
"With a little help from Gwin (Faulconer-Lippert), they [Telemundo] wanted me because of my video background and because I'm bilingual."
Faulconer-Lippert, Mass Media Communications professor and Rick Allen Lippert, Video Production adjunct professor, both attended with their students.
A total of nine awards were received by OCCC students in five different categories for both television and radio.
To contact Sarah Hussain, email seniorwriter@occc.edu.