Brexit: students and professors weigh in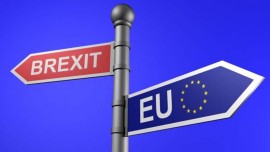 OCCC students and professors have mixed feelings about the future of the United Kingdom, and some claim Britain has even chose the path to its own destruction in choosing to leave the European Union recently.
In a slim vote for secession, the citizens granted the nation the ability to leave the EU and effectively become sovereign again.
The ability to leave the EU gives England and other countries, islands and territories under British rule the ability to control its own trade and immigration policies according to CNN.
Other benefits include more economic freedom, less bureaucracy, and the ability to control their own legal systems according to betteroffout.net, a campaign site dedicated to Britain exiting the EU.
However, while the decision directly impacts those living far away from OCCC, many at the college are seemingly shaking their heads.
OCCC Math Professor and English immigrant Paul Buckelew said the decision could have serious financial consequences for the country.
"No one from the U.S. is going to want to invest because of the uncertainty" he said.
Buckelew said if he had been able to vote on the referendum he would have voted to stay in the EU. He said he thinks that people don't understand all sides of the argument.
"In England people are upset not about outside immigration but (about) cheap labor from Poland" he said.
"It's also a generational thing," he said. "When you go downtown and see few Londoners and more immigrants, it bothers my parents. But I like to see it."
Some OCCC students expressed their agreement with Buckelew.
OCCC international business major Martin Gonzalez said he sides with the professor.
"I think it was the worst thing they could have possibly done because they knew it would hurt the economy. People were selfish and chose to close their borders rather than help others economy." Martin said.
But other students, like Warker Huynh, said they feel differently.
"I feel like it could be good because there are less economic restrictions," Huynh said.
Another OCCC Professor who spent a number of years living in England and who teaches English for OCCC, has very negative feelings about the Brexit.
Professor Kym Ward, who recently returned from a spring semester in Britain, thinks this is the end of it all for the UK.
"I think Britain signed its own death warrant" said Ward.
Ward said she fears that Scotland will want an independence referendum now.
She warns Scotland's exit would harm Britain because they get the majority of its nuclear and gas power from Scotland.
For more information about Brexit and the next steps forward, visit http://qz.com/721596/brexit-the­longer­view/