Blood drive circulates compassion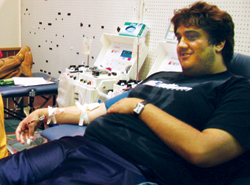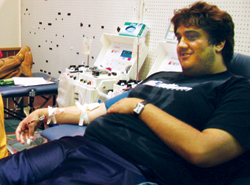 Jo Dabiri, history major, gives blood at the Oklahoma Blood Institute Drive, June 22, in the College Union. The drive was held partly because of the great need for blood in the summer months.
Dozens of students, and some faculty and staff, laid down and rolled up their sleeves Tuesday and Wednesday as OCCC held a blood drive in the Student Union.
The drive, held 10 a.m. to 3 p.m. both days, and sponsored by the Oklahoma Blood Institute, was titled "Feel Wild, Give Blood" because of a connection with the Oklahoma City Zoo," said Blood Program Consultant Jennifer Beattie.
Beattie said all who donated blood received a voucher good for admission for two to the Oklahoma City Zoo.
Donors also were given a free health screening and a T-shirt.
Forty-seven donors gave both blood and plasma, according to OBI records.
Beattie said she was expecting 70 during the two-day event.
She said there is always a need for blood in the summer because people travel and vacation, and donors are seen less.
Beattie stressed the importance of being a blood donor.
"It is important to give blood, because one in three people need blood in a lifetime," Beattie said.
The blood gathered at OCCC could end up at any of OBI's affiliated 110 hospitals, she said.
OCCC student James Davis smiled as he gave plasma Tuesday.
"I donate because I want to help others," he said.
The process was relatively fast for the donors who laid in either of the two beds covered with pink blankets, Beattie said.
"We tell people to take 45 minuets to an hour to donate, but most of that is paperwork and the actual drawing of [blood] is only usually 5 to 7 minutes," she said.
The next blood drive for OCCC is scheduled for Sept. 1 and 2.
Students and staff who missed the blood drive can still donate at a few locations in Oklahoma City, Beattie said.
Those are 10th Street and Lincoln Boulevard, and at 50th Street and N. Portland Avenue.
Other centers include Midwest City at 1113 South Douglas Boulevard, 1004 24th Avenue Northwest in Norman and in Edmond, 3409 South Broadway Ave.
For more information, contact Beattie at 405-401-6832 or visit www.obi.com.