Blood donations top 60 units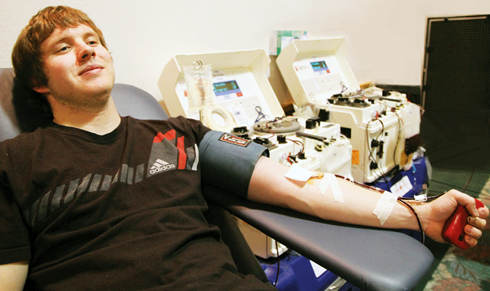 Rachel Morrison/Pioneer
Liberal arts major Sean Watson gives blood February 16. Watson said he was walking through the student union where he saw the Blood Drive setup and then decided he wanted to help the cause by donating his blood.
Students and staff donated 64 units at a recent blood drive on campus, falling short of the 80-unit goal set by the Oklahoma Blood Institute at the beginning of the process.
"This was the most successful drive OCCC has had in the past couple of years," said Tanshanika Hill, the on-site mobile supervisor, about the drive Feb. 16 and 17.
At their 10 a.m. opening the first day, they already had multiple donors giving blood, being screened, and standing in line, which made the staff optimistic from the start.
Hill said they perform a blood drive at OCCC three times a year. This drive was deemed particularly important because winter storms that hit the Oklahoma City area had reduced the supply. Hill said normal donors who go to OBI clinics could not get out to donate due to the snow and ice.
Also the drive was scheduled to coordinate with the Health and Fitness Fair being held on campus at the time.
One student described herself as a regular blood donor.
"I have given blood now 10 times and had time to give a double take today," said Anna Kruskopp, an Administrative Officer Technology major. "I'm glad to help out."
Brandi Elliott, an OBI employee, explained the terminology.
"Every double red blood cell donor provides double the life-saving blood to those in need," she said. "It's the way to help most with one blood donation. In this procedure, the machine takes the blood out, separates the red blood cells and puts back plasma and some saline.
"A regular blood donation takes one hour, a double take donation takes one and a half hours."
Hill said after a donor has given blood, the staff offers them snacks and drinks to replenish the body of what it just lost. They also suggest that donors refrain from heavy lifting or strenuous physical work for 24 hours.
Along with snacks and drinks, OBI always sends donors away with a token of appreciation. This time they gave out fleece gloves to protect against any possible upcoming storms.
For more information about donating blood or future blood drives, visit the website of the Oklahoma Blood Institute at www.obi.org.