Bison dominate NAIA Swim Championship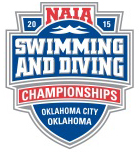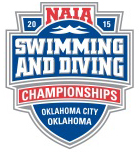 Oklahoma Baptist University was the big winner at the 2015 NAIA Swimming and Diving National Championships, hosted at OCCC's Aquatic Center on March 4 through 7.
For the third con­secutive year, the Bison, who went into the competition as favorites, handily won both the men's and women's overall national championships.
The Bison men took home 11 of 20 individual event championships, and amassed 876.5 overall points to win the men's title, beating out second place Olivet Nazarene University from Bour­bonnais, Ill., which finished with 575.5 overall points. Savannah College of Art and Design took thrid with 403 points.
OBU's women won 13 out of 20 individual events, and finished with 745 overall points. They were followed by SCAD with 481 points and Brenau University from Gainsville, Ga., who were not far behind with 439.
OBU also won at least a share of all eight awards given at the cham­pionships, which included men's and women's participants from 19 and 25 schools respectively, from around the country.
Laura Galarza (OBU) shared the Women's Swimmer of the Year award with Christine Tixier (Biola University, La Mirada, Calif). Daniel Ramirez (OBU) claimed the Men's Swimmer of the Year title. Both Bison swimmers also won Swim of the Meet honors for their respective genders.
On the diving side, Kristen Brimage (OBU) was chosen as Women's Diver of the Year, while Zak Rowton (OBU) was named Men's Diver of the Year. OBU won all four diving events.
With his team's success, it came as no surprise when OBU's Sam Freas won both men's and women's Coach of the Year awards.
Tixier set three new records at the meet, in Women's 200-Yard Individual Medley, Women's 100-Yard Butterfly, and Women's 200-Yard Butterfly. In the 100-Yard Butterfly, Tixier set the new record of 54.25 in the preliminary round and almost broke that record in the finals, finishing with a time of 54.34.
Other notable record setters included SCAD's Joel Ax, who was .3 seconds away from beating the record of the Men's 500-Yard Freestyle by three full seconds.
Ax finished with a time of 4:21.93, beating the original record of 4:24.63. Ax and Tixier were the only record setters who were not from OBU.
The same event is scheduled to take place at OCCC's Aquatic Center again next year, on March 2 through 5, and in 2017 and 2018 as well.
For more information, Recreation and Fitness Department at 405-682- 7860.
To contact Clayton Mitchell, email sportswriter@occc.edu