Birth defects can be prevented with early prenatal care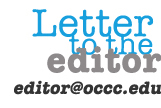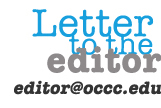 To the Editor:
Birth defects are the most common cause of death in infants and the second most common cause of death in children ages 1 to 4 years.
More than 120,000 babies are born with a birth defect in the U.S. each year. Of those, about 2,000 cases are in Oklahoma.
The Oklahoma State Department of Health notes that the risk for many types of birth defects can be reduced through healthy lifestyle choices and medical interventions before and during pregnancy.
Those include congenital heart defects, cleft lip or palate, defects of brain and spine, and a variety of genetic syndromes such as Down syndrome. Public awareness, accurate and early diagnosis, expert medical care and social support systems are essential for prevention and treatment of these all-too-common and often deadly conditions.
"Diet, lifestyle choices, factors in the environment, health conditions and medications before and during pregnancy all can play a role in preventing or increasing the risk of birth defects," said Sharon Vaz, OSDH Screening and Special Services director.
Studies have demonstrated several important steps women can take to help prevent birth defects. Women who are pregnant or may become pregnant are advised to:
• Take 400 mcg of folic acid daily from the beginning of menstruation through menopause.
• Eat a healthy diet and aim for a healthy weight.
• Get a medical checkup before pregnancy and address specific health issues including weight control, control of diabetes, and any medications taken.
• Stop smoking and avoid secondhand smoke.
• Stop drinking alcohol prior to pregnancy.
• Do not take illegal drugs.
• Know your family medical history and potential genetic risks.
Additional information on preventing birth defects can be found at www.obdr.health.ok.gov. For more information about having a healthy pregnancy and a healthy baby, view the "Preparing for a Lifetime, It's Everyone's Responsibility" public education campaign on the OSDH website at http://iio.health.ok.gov.