Benches placed around Arts Festival site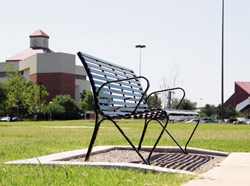 Shown is one of the 16 new park benches placed around campus on the Arts Festival Site. (Justin Combs/Pioneer)
Sixteen benches were recently installed around the Arts Festival site on the northwest side of campus, said Larry Barnes, Facilities Management project manager.
Barnes said the 16 benches surrounding the site each have an L-shaped flower bed in front of the bench.
They are made of black metal and can fit up to four people.
"The benches are there for students and members of the community," he said.
Barnes said each bench costs around $1,200, with the total for all 16 being around $20,000.
J.B. Messer, Facilities Management director, said TruGreen installed the benches.
Messer said the company was one of several who bid on the project.
Although it is hot during the day, he said, the benches won't burn people who sit on them.
Barnes said the powder coating used to paint the benches keeps the benches from becoming too hot.
Kayla Parker, OCCC student, said she likes the new additions to the festival site.
"It is very beautiful," Parker said. "I love the silence and being able to hear nature while I relax from my classes."
Even some community members said they were eager to use the benches.
"I haven't got a chance to see the new and improved site," said Nancy Coleman, mother of a future OCCC student. "But I am definitely going to check it out."
To contact Carlos Nazario, email onlineeditor@occc.edu.