Baked goods raise scholarship funds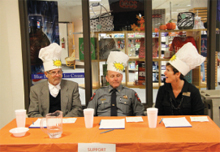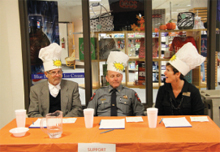 Robert Bolton/Pioneer
Soup and bake sale judges Ray McCuller, Police Chief Jim Fitzpatrick, and Kathy Wheat discuss the different soups to be tasted Nov. 3 just outide the OCCC bookstore. The soup and bake sale raised over $400 for the Faculy Association in support of student scholarships.
Talk of delicious soup and sweet confections filled the air of OCCC Nov. 3 as the Faculty Association hosted a soup and bake sale to raise money for student scholarships.
Approximately 60 people bought baked goods and hundreds of people enjoyed the various soups donated for the event.
As with previous Faculty Association sales, the bowls were judged on various points by several people.
This year History Professor Ray McCuller, Police Chief Jim Fitzpatrick, and Speech-Language Pathology Program Director Kathy Wheat had to choose from 10 different soups.
McCuller said that he was looking for what tasted the best. Fitzpatrick said he was looking for texture, taste and the blend. Wheat said that she was looking for the taste, texture and appearance of the soups.
Fitzpatrick said he liked soup number four the best, which was the 15-bean soup with ham made by Curriculum and Assessment Director Catherine Kinyon.
The sale was received well by participants, and received positive reviews.
"I think the sale is awesome," said political science major Kenneth Meador.
"They do it every semester, and it all goes to support student scholarships."
The sale raised $417.37, for the Faculty Association's student scholarships.
"It's a Faculty Association scholarship, where students that are nominated by professors," said Scholarship Committee Chairman Jeff Carlisle, history professor.
Carlisle said the professors and students filled out forms, and the committee goes through and awards scholarships based on those applications.
"Sometimes everybody who applies gets a scholarship, but it depends on how many applied, and how much money we have," he said.
The winner of the soup contest was a tie, so both winners received a $15 Panera Bread Gift card.
The winners of the soup contest were:
Soup #8—15 Bean Soup with Ham by Catherine Kinyon and
Soup #4—"Almost Famous" Tuscan Soup by Terri Walker
Tied for third were:
Soup #3—Vegetable Beef Symposium by Charles and Shanda Myrick
Soup #7 —Taco Soup by Sue Hinton
Soup #10—Chicken Noodle Mystery soup by Anonymous
Honorable mentions:
Soup #2—Loaded Potato Soup by Stephanie Holt
Soup #1– Cajun Crab Chowder by Tad Thurston
Soup #5—Black Bean Soup by Mary Grace Berkowitz
Soup #6—"Dinner in a Flash" Soup by Fabiola Janiak-Spens
To contact Robert Bolton,
email onlinewriter@occc.edu.