Automotive professor retiring after 21 years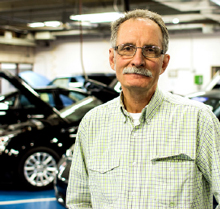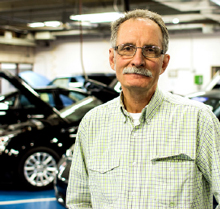 After 21 years of teaching and eight years as automotive department chair, Richard Steere has decided it's time to hang up his wrench when the semester ends May 15.
Over the course of Steere's career at OCCC, Steere believes he has some things to be proud of.
"One of them would be the partnership with General Motors," he said.
"That was here when I got here, but maintaining that. That's really important for the school and for the students."
Steere said General Motors donates two to four newer model vehicles a year to OCCC through this partnership.
"So what that does for our students is they get to work on the latest technology," he said. "And this is very important.
"Another big deal was probably the alternative fuels program."
Steere said he converted his own 1959 Ford pickup from gasoline to Compressed Natural Gas, "which was a really great learning experience."
"We have trained people nationwide on how to convert a gasoline vehicle to CNG," he said.
Steere said the thing that drives CNG is affordability. CNG is better for the environment too, he said.
"But they've gotten so good with emissions on gasoline that CNG is not a whole lot better but it still is a cleaner fuel."
OCCC is one of only three places in the state that license people to be able to convert vehicles from gasoline to CNG.
Steere also talked about the changes he's seen in automobiles throughout his career at the college.
"When I started, everything had a carburetor and point ignition, and now, some of the vehicles have as many as 27 computers that integrate and talk to one another," he said.
Steere said the next big thing will be active brake intervention.
"This means when you're driving, the vehicle will actually put the brake on before you know anything is there," he said.
"They are even now in the process of testing cars that can completely drive themselves."
Steere said he has more than enjoyed his career at OCCC.
To contact Chelsi Hill, email onlineeditor@occc.edu