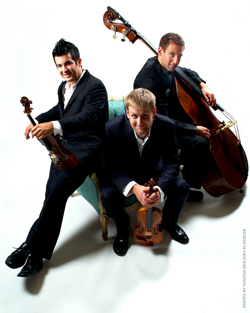 An original tune about coal miners who built a city was the opening song for Time for Three when the trio performed in concert on campus Nov. 3. Rannan Meyer, who plays the double bass, wrote this moving song entitled "Wyoming 307." Violinists Zachary De Pue and Nicolas Kendall complete the trio.
As they played the song, the members of the group recited an inspirational story of the miners accomplished this feat.
James Nantze, an audience member said, "I appreciated the depth Time for Three put into their music. It spoke to me."
He also said he liked how they put so much emotion into their work.
People in the audience were bobbing their heads and tapping their feet along with the music. This was indicative of the interaction between the audience and the performers.
Time for Three group members stopped occasionally throughout their performance to talk about their music. Their stories added a personal touch and showed their passion for their music.
When they talked about their schooling at Philadelphia's Curtis Institute of Music, De Pue joked about how the school had a great football team.
The group played a few familiar songs, but they added their own twist to the tunes. Some of the songs they included were "Encore: Hallelujah," by Leonard Cohen and "Stronger," by Kanye West and Daft Punk.
Kendall said the trio had just launched its first music video a few weeks ago. The music video is entitled "Stronger," which is a production that promotes anti-bullying.
The group closed by playing the "Orange Blossom Special," by Charlie Rouse. The song is a fast paced tune that tells the story of a luxury train line.
Audience member Pat Hicks said, "We have been coming to events on campus for several years and this would be one of the best events we have been to. It was fabulous."
Time of Three concert was part of the Cultural Arts Series.
To contact Ashley Fuksa, email onlineeditor@occc.edu.