Attractions reasonably priced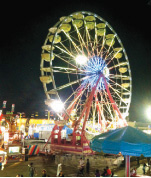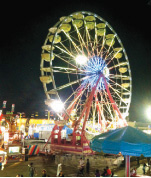 Emily Schorr/Pioneer
People all around Oklahoma took their sense of adventure and their appetite to the Oklahoma State Fair of 2011.
There were many attractions at the fair to tickle anyone's fancy.
Everything was offered from pig racing, shopping and the adventurous carnival.
The carnival offered many rides for a variety of ages and adventure levels.
The big slide, eight riders racing against one another, was a favorite for all.
The Gravitron was for anyone that would enjoy high-speed spins and being stuck to the wall.
The prices for the carnival were reasonable.
An unlimited ride wristband cost $25. A five-ride ticket could also be purchased for $20.
All of the buildings were filled with booths selling anything from Cutco knives to Made In Oklahoma products (MIO). The MIO products ranged from food items to clothing and décor.
For most fair patrons, the food was the highlight of the trip.
Vendors offered fried foods which deviated outside of the normal offerings.
Fried Twinkies, an assortment of fried candy bars and fried pickles were a few of the most popular.
Chocolate-covered bacon was one of the more unusual items covered in chocolate.
Along with the unusual foods at the fair there were foods which were to be expected like corndogs, turkey legs, roasted corn, Indian tacos and cheese on a stick.
There also were a variety of shows to entertain the young and old.
Disney on Ice is a big attraction, and the Eli Young Band brought many people to the fair on a cool fall evening.
There also were agriculture shows and beauty pageants.
The majority of the shows were included with admission to the fair.
The Oklahoma State Fair was an overall treat.
The prices for most attractions were reasonable with the exception of the food, which is always expensive.
Rating: A-
To contact Emily Schorr, email seniorwriter@occc.edu.