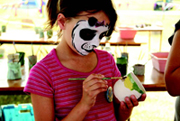 Rachel Morrison/Pioneer
A panda-faced Lacy paints her small pot at the Paseo Pottery booth Sept. 3 during the Arts Festival. Individuals paid a small fee to paint their pottery and have it fired in an onsite kiln.
This Labor Day weekend approximately 23,700 people and over 320 vendors gathered on OCCC's grounds for the 33rd Anual Arts Festival Oklahoma. Spirits were high, the displays were vibrant, and the food was reminiscent of old-time county fairs.
The crowd's kinetic energy mellowed into an aura of relaxation as temperatures leveled off on the second day and welled up again for the performance by the Oklahoma Philharmonic and the multimedia experience that was the fireworks extravaganza.
Many of the artists said they were positive about the impact of their works and some of them would comment on individual pieces.
"That's White Rock Lake," said Clark Crenshaw, photographer from Garland, Texas, about the piece of his that won a purchase award.
"I went out there on a real foggy day, which I like to do because it makes everything look so different."
Crenshaw said he has been showing at the festival for the last 10 years because "usually by the time all the smoke clears sales have been good."
Brad W. Foster said his work is "doodling to the extreme."
"I'm a cartoonist with illusions of being an artist," said Foster, pen and ink artist from Jabberwocky Graphix.
He noted that being a black and white artist allowed him to stick out of the crowd with festivalgoers.
Something that also stood out with festivalgoers was the food. In the food court were vendors preparing an assortment of dishes including gyros, pulled pork, Indian tacos, gelato, cinnamon rolls, fajitas, and much more.
"Roasted corn, anywhere there is roasted corn I show up," said Doug Swope from Edmond.
Among those attending were OCCC students.
"This is one of the good ones in Oklahoma," said Jacob Niles, festivalgoer and diversified studies major who frequently attends art shows.
Jaime Rodriguez, visual arts major, said Arts Festival Oklahoma was important to him.
"I tend to get a lot of inspiration when I'm around other artists. So seeing their work gives me ideas for my own work," Rodriguez said.
Overall the event was a major hit with artists, visitors, and volunteers alike.
For more information on Arts Festival Oklahoma, contact the Arts Festival Oklahoma Office at 405-682-7576 or at artsfestivaloklahoma@occc.edu. For video coverage visit the Pioneer online at www.occc.edu/pioneer.
To contact Michael Wormley, email communitywriter@occc.edu.