Arts festival needs volunteers to co-chair committee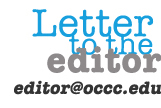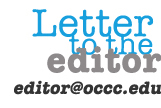 To the Editor:
Labor Day weekend will be here soon and with it, Arts Festival Oklahoma 2011.
Every year, a dedicated group of volunteers help to coordinate and manage various areas of the Festival. While all the committees for AFO 2011 have someone at the helm, a few have asked for additional co-chairs.
Anyone with a desire to serve may volunteer.
Committee chairs and co-chairs do not need to be OCCC employees.
You would be paired with a chairperson who has performed the duties of that committee for at least one year. This individual would provide training and support.
Volunteer co-chairs are required to attend meetings for planning and the volunteer appreciation party, recruit volunteers, and work shifts at the festival.
Co-Chairs Needed:
•Food Concessions: These co-chairs help support food vendors, and help with end-of-day commission collections. They also help secure a volunteer audit team to monitor sales and cash register policy compliance.
•Hospitality/Artist Ambassadors: These co-chairs help coordinate, supervise and schedule volunteers in this area. Volunteers serve as Seemore Art, artist ambassadors, call center operators, hydration services crew members and volunteer hospitality area workers.
•Volunteer Party: This co-chair helps by securing and coordinating volunteers to assist during the setup of the volunteer party. These volunteers stage the door prizes area, check in volunteers, issue tickets for the drawing, etc.
•Information Center/Sales: This co-chair helps coordinate and secure volunteers to man the festival's information center/sales trailer.
These volunteers display and sell festival merchandise, maintain a listening watch on the radio, summon help and give information, direct patrons, and accept items for lost and found.
A willingness to serve in a leadership capacity and learn the various job functions are the only prerequisites, so if you or someone you know would be interested in serving, please e-mail lbardeguez@occc.edu.
On behalf of Arts Festival Oklahoma, thank you for your consideration.