Aquatic Center closing for good after Labor Day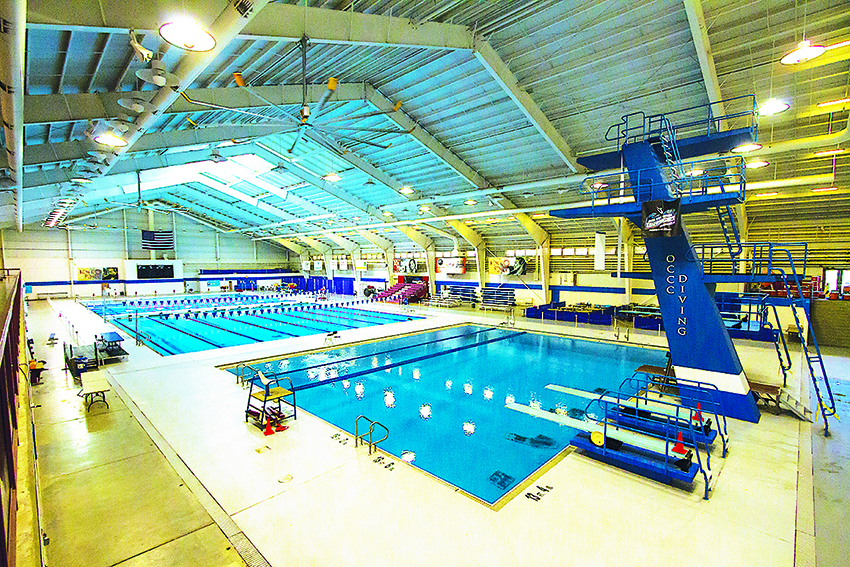 After 25 years of hosting swim meets, swimming classes and providing students with a place to get in a few laps, the Aquatic Center will close its doors after Labor Day.
Lemuel Bardeguez, Community Development Vice President, said although it was a difficult decision to make, he believes closing the Aquatic Center is a wise decision.
"To continue to keep it open would put such a burden on OCCC that it's just not money well spent," he said.
"First and foremost, we have to be good fiscal agents on the funding that we get."
Last spring, the Pioneer reported that OCCC spends $280,000 a year to maintain the center and it currently needs $6 million in repairs.
Executive Vice President Steven Bloomberg said the Aquatic Center was built as the host site for the U.S. Olympic Swimming Festival.
"[It was] built in 1988. It was enclosed in 1989," he said.
OCCC alone has been responsible for its upkeep since that time, Bloomberg said.
In an email sent out last spring, former OCCC President Paul Sechrist announced the closure. He said the decision was difficult based partly on the positive impact the Aquatic Center has brought to the community.
Bloomberg agrees. He said numerous community programs have taken place at the pool.
" … Our dive well — which is 18 1/2 feet deep at its deepest point — has been used to train divers for police departments, divers for military installations," he said. "So it's done a great service to the community through those vehicles."
Nursing major Naomi Jones said she liked swimming in the Aquatic Center pool.
"I enjoyed it," she said. "I wasn't able to go down there that much but it was nice. There was hardly anybody ever down there so I understand why they would close it.
"I was kind of sad when I got the email [regarding its closure] … ."
Michael Shugart, Recreation and Fitness Director, said he used to train for triathlons at the Aquatic Center.
He said when the Aquatic Center was first built it was "the only game in town."
"We were the only place for people in Oklahoma to house their swim meets," he said.
"When the news broke of them building this new swimming pool in Edmond — Mitch Park YMCA — a lot of our business left."
Shugart said he is confident that Edmond's Mitch Park YMCA will be able to handle the business OCCC used to get.
Marketing and Public Relations Director Cordell Jordan said a number of collegiate records were set in the Aquatic Center pool.
"I really enjoyed when we hosted the Mountain West swimming and diving," he said.
"To see that caliber of swimmer here is something else."
Bloomberg said, although many disagree with the closing, OCCC's priority is its students.
"It was a very difficult decision but I will say this: the decision was made in the best interest of the students at Oklahoma City Community College … ," he said.
He said the money saved from not having to pay for upkeep will be used to better serve students elsewhere.
Bloomberg said, as of now, it's unknown how the space will be used.
For more information about the history of the Aquatic Center, visit the Pioneer Online at pioneer.occc.edu and use the search button at the top right.